Reference
Prof. MD. Vitezslav Kolek, DrSc.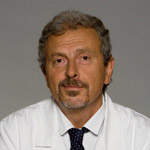 Modern methods of Pneumology are based on minimal invasiveness, accuracy and good interpretability of the data collected. Until recently ultrasound examination of the chest did not meet these requirements. The imaging capability of this examination has, however, significantly improved in recent years and new machines with high-quality detection probes are an excellent tool in the diagnosis of intrathoracic processes, but also for therapeutic interventions, where it serves as a navigation system. Its application in intensive pulmonology is particularly relevant and chest sonography has now been ranked among standard investigative procedures.
The presented atlas is an excellent archive of common and less common findings in correlation with other diagnostic methods and is intended as educational material for all doctors who use thoracic sonography or who wish to implement it into their practice.
It remains to me to sincerely hope that this work is read by as many pulmonologists as possible.
Prof. MD. Vitezslav Kolek, DrSc
---